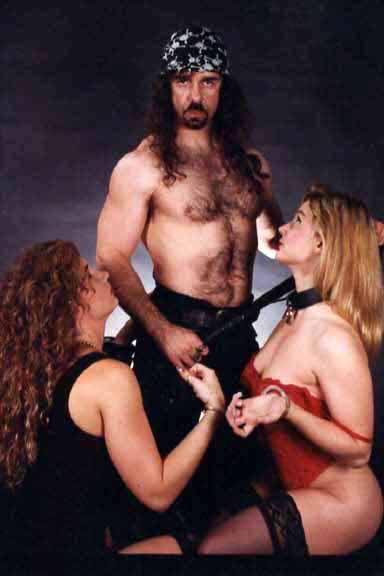 Master Anton Fury
Rhiannon and I discovered The Vault and the Fetish scene in the early 90's and we took to it immediately. In those days especially, it was wild, crazy and so much fun. Unfortunately, due to social more's, it has pretty much faded back into the shadows. While it wasn't mainstream by any means, there were public venues and events where one could indulge in the "darker" side of life.
Like anything we do, we didn't dabble, we jumped in with both feet. We started reading and more importantly, we associated with the right people.
Two people that were crucial in our development were Wolfman, who was a photographer and ran a dungeon out of Philly, and Constance from Dressing for Pleasure, who was the Matriarch of the scene. Because of our association with these two, we were able to go from 0 to 70 in a very short amount of time.
We met Wolfman at an event, and after it was over, he invited up to a VIP party at Mistress Mir's house, out in the suburbs. Mir was a highly respected Mistress who had an incredible dungeon in her basement. So, right out of the gate, we were with th"In" crowd.
We started writing a monthly column for the Fetish magazine Nugget, which ran for over 10 years. I also shot layout for it from time to time. Rhiannon got hired to host Bond-Con in Las Vegas. She was doing sessions out of a dungeon in central New Jersey that was housed in a gay Bed & Breakfast.
She was also hired to make Fetish videos for Gotham Gold in Queens, NY. When she booked the gig, she mentioned that she knew a Master that could also perform. I was hired, and Master Anton Fury was born.
Not that I hadn't spent a lot of time in dungeons, and I was never on the "crack" end of the whip, but to actually perform on camera was something I had never really considered.
We made the trip to the Gotham Gold studio. Rhiannon went first and was great, as I expected. I was up next and working with a girl named Heidi Von Hunter. She was very helpful and I ended up doing well, where she and I topped another girl, named Sasha Sweet.
Rhiannon and I had actually met Sasha at another club where she and Rhiannon ended up riding Danny the Wonder Pony in a clip for The Playboy Channel.
Danny the Wonder Pony was a guy whose kink was wearing a saddle and give women rides. He was actually in the movie From Dusk Till Dawn where he can be seen in the background in the big finale. But, I digress...
In my next scene, I was again teamed with Heidi where I topped her. That was the start of Anton Fury – Pro-Dom.
I worked for Gotham Gold many times after that, working with Big Boob Superstar Minka, Porn star Anna Malle, Marley Murphy – Miss Nude Atlanta and many other girls. Rhiannon and I also began producing our own line of Sweet-N-Evil videos.
Throughout these years Rhiannon and I both had our own personal submissives. I found early on that having a submissive in my personal life required much time than I was willing to give.
My photo studio always had areas that were conducive to dungeon play. After the magazine business died, I converted my studio to a full-blown dungeon and started having monthly fetish parties. They were a huge success for a couple years, but like everything else; nothing lasts forever.