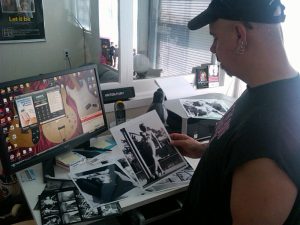 The Marilyn Mystery
In about 1981 I frequented garage sales. AT one such sale somewhere in Parsippany, NJ, I came upon a couple envelopes of 2.25 x 2.25 photo negatives. I had no idea what they were, they were definitely old. I paid a couple dollars, at most, for them.
Once I got them home, I was able to get a better look at them. At that point I discovered one set was of Marilyn Monroe and dated October 10 -50 on a wax paper slip.
The other set turned out to be Jayne Mansfield and looked to be about the same period.
It was pre-Internet, I had no real way to investigate them, so I put them in a file cabinet and forgot about them.
One night in 2010, I was watching Pawn Stars and a guy brought in come old negatives. Rick brought in the appraiser, he gave a price and Rick bought them. I have no idea what the pix were, but they went for a good amount.
At that point, I remembered the Marilyn and Jayne negs. I actually tracked down the appraiser the had been on the show. When I got him on the phone; I told him what I had. He informed me that he didn't do "Hollywood", and that I should contact someone that does.
The Pawn Stars, at that time, were doing a tour. They were going to be in The Poconos, which is only a couple hours from me. I got tickets and went to see if I could sell them to them.
The way these "Tours" worked was; there are tickets for sellers a,d for those that just want to watch. When you're a seller, you first go through a gauntlet of "schleps" that determine in what you have would be of interest to the big guys. If so; they send you to the next table for Rick, Chumly or the Old Man to make an offer.
These idiots, while they're sending a lady with a Barbie from 1987 through, determined that these 1950 negatives of Marilyn Monroe and Jayne Mansfield were not worth their time. Wow! Really?
I was frequently in California, so I looked up an art dealer in Beverly Hills named David Streets, and took them to him for a look. He immediately called a friend, Allan Duke, at CNN, who thought we had a story.
A couple days later, I met Duke at Streets studio for an interview. A couple weeks later the story ran on CNN and my phone started ringing off the hook.
This became The Marilyn Mystery, just in time for her 80th birthday. I didn't have anything more to say about it, but I was curious to find out who shot them, for what and whose yard were they shot in?
Even after all these years; all I know is that a photographer named Bob Beerman shot them. He was a Hollywood photographer at that time, but not a huge name. Beyond that: I know nothing.
Soon after, I was at a collectors show And came across a table with a girl from Heritage Hollywood Auctions. We talked about what I had. She said they'd be interested, so I signed up with them.
The Marilyn's ended up going for $10k, so I did pretty well on a $2 investment. Jayne Mansfield is not Marilyn Monroe. Jayne has a very "cult-like" following. I ended up selling her's on ebay for substantially less.
It was an adventure.